Established in 1998, Bridges to New Life is the largest Christian post-release support network in the Okanagan. We support the needs of those who have been impacted by crime.
Glen Kyle joined Bridges to New Life Society in 2021. Working with the board of Directors and staff, Glen is in process of implementing several ambitious strategic priorities that are moving Bridges to New Life forward. Prior to his appointment at Bridges, Glen worked for the Ministry of Municipal Affairs as a grant analyst, providing over 100M in funding to infrastructure needs around British Columbia.
Glen has his Master's degree's in Christian Ministries from Briercrest Seminary, and a Master's in Leadership from Royal Roads University. Glen has been in full time ministry positions for over 15 years and taught part time at a small discipleship school for several years. Glen also served on the Sanctuary Youth Centre Board in Victoria, and loves opportunities to serve the local church.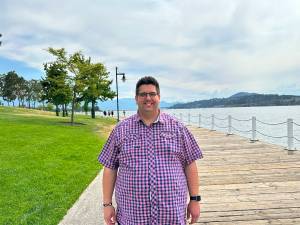 Jalon joined Bridges to New Life Society in 2022. Having served 17 years at Kelowna Gospel Mission and having founded a not-for-profit agency called Revolution Christian Ministries, Jalon has a huge heart for the marginalized. His empathetic and compassionate nature allow him to actively listen to the men we serve, and provide the guidance and resources they need to rebuild their lives after incarceration.
Born and raised in Kelowna, Jalon feels deeply called to minister in his hometown. Jalon earned a BA in Youth Work from Columbia Bible College in Abbotsford, BC. In addition to his roles in financial management, client case management and volunteer coordination, Jalon walks alongside men in a pastoral and discipleship capacity, offering guidance and mentorship as they navigate their journey towards a new life.
Our Board of Directors are a passionate group of people who are excited to see Bridges to New Life Society create bridges for people towards a new life away from crime and a new life in relationship with Jesus.
Our Board members are: Gerald Klassen, Sam Fellichle, Sharleen Kruschel, Cliff Brandes and Richard DeJong.  
Bridges to New Life Society is a registered Canadian Charity #88963 7823 RR0001 and our vision is to offer new life to those impacted by crime.
Bridges is a member in good standing with the:
Canadian Centre for Christian Charities.
Coalition of Prison Evangelists (since 1998)
Restorative Justice Ministry Network (since 2003)
Member of the International Network of Prison Ministries (since 2004)
Member of Kelowna Chamber of Commerce (since 2023)
Individual Supporters
Southern Interior Churches
Felsen Foundation
Calgary Foundation
City of Kelowna
Bridges to New Life Society receives an independent annual review by: Kemp Harvey Hunt Ward Inc.